Who is Jamie McKenzie? Dreamboy and professional dancer from Wales
← Previous
Posted on 10 May 2021
Next →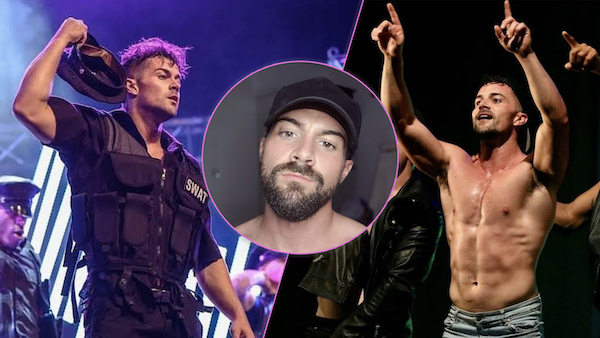 Buy Tickets & Merch 〉
Here's all you need to know about our cheeky Welsh heart-throb, Jamie
Our veteran Dreamboy fans might already be familiar with our dark-haired dancer Jamie, who has been with the company a pretty long time.
But for those of you who aren't up-to-scratch on all things Swole, let us explain a bit more about him.
James (Jamie) McKenzie is 26 years old and hails from Cardiff, south Wales.
Although he's spent some time away from home, both at university and also living in London for a short while, Jamie is now back in Cardiff, where he performs at the Saturday night club shows.
Known as 'Swole' by his fellow Dreamboys, the dancer has performed on tour and is known across the country by our fans, many of whom consider Jamie their favourite.
We had a chat with Jamie about his time with the company and what makes him tick.
How did you get into the industry?
I first started working in dance at age 16, before moving into stripping at the age of 19.
In the past I've danced for the likes of Sinita and was on Britain's Got Talent.
I wanted to be a Dreamboy from the age of about 15, I even applied over email at the time and all.
Back then, I used to see these guys called Rowan and Rogan doing it, and thought I wanted to be a Dreamboy like that. I didn't expect to eventually end up working alongside them!
What's your experience been as a Dreamboy?
My favourite thing about performing is that when you're on stage, you're not yourself.
When I'm on stage I'm not Jamie, I turn into Swole, it's like my alter ego.
I have loads of funny stories from work, many I can't tell though.
One is that I used to do a dance number on tour just after the guys had oiled up on stage. This one time, I went to do a dolphin dive, intending to look all sexy like Channing Tatum, but of course I ended up falling on my ass in front of everyone, and they were all laughing.
Actually, for the first ever show on stage, the boys decided to prank me.
They pinned the bottom of my trousers together, where they were meant to open when we rip them off in a dance.
So when it came to it, my trousers were still stuck on around my ankles, I had to waddle off stage with them still on and I didn't look very sexy.
Has being a Dreamboy impacted your relationships?
Being a Dreamboy has had some negative impact on previous relationships, but it varies.
Just like each girl is different, every Dreamboy is also different so it's hard to judge, but in my own experience sometimes the girls I date can be a bit paranoid, which is understandable.
You need a lot of trust when you work in this industry.
Are there any common misconceptions about strippers?
One of the main ones is that we all love ourselves too much.
People tend to assume we just stand on stage with oiled up muscles and tense, purely showing off how great we are.
Obviously, this couldn't be further from the truth, it requires talent to do what we do.
They also seem to think we all walk around with semi-boners all day and pump our willies, so maybe that assumption is a bit true… Joking!
Where can we see you perfrom?
You'll catch a few glances of me in the teaser video and I can be found on the Cardiff club show and on selected tour shows!